Ever since I first heard about nail polish marbling a few years ago, I've been dying to try it. It's swirly and colorful and almost a little too easy to be true. I mean how can you pour nail polish into water and then dip something into it without things going a little sideways? If it works, it'll definitely be my kind of craft. I was intrigued, but cautiously optimistic.
The other problem is that I'm not much of a nail polish wearing girl. I love how it looks, but when it chips after a day or two, it drives me insane! (On a side note, my new favorite chip resistant polish is this one HERE.)
However, with back to school just around the corner, I decided it was time to try out nail polish marbling for some DIY pencils.
Easy Nail Polish Marbling
Now that both of my kiddos have graduated high school and are in college, back to school is taking on a different meaning in our home. There's just not as much prep or anticipation as there once was. But fun pencils and paper supplies are perfect for new classes, a new job, or frankly just because.
Here's what you'll need:
Supplies for Easy Nail Polish Marbling
**This post contains affiliate links. Many of the supplies listed can be found at your local store, but the links have been provide for your convenience in recreating this project.**
Method for Easy Nail Polish Marbling
Prep for Nail Polish Marbling
Fill plastic container with water. You'll want the container to be deep and wide enough for whatever you are marbling. I selected a container that would allow me to cover an entire regular size pencil.
Add Nail Polish to Water Filled Container
This doesn't have to be perfect… just drizzle and drop the polish into the water.
Dip Pencil into Prepared Nail Polish Marble Mixture
Simply dip in and out. If you swirl the pencil around, you will get a thicker texture on the pencil.
Set Aside to Dry
The nail polish marbled pencils will dry quickly, but just like doing your nails, you want everything to thoroughly set before using them.
4 Things You Need to Know for Easy Nail Polish Marbling
Surface Matters
The nail polish draped better over the pencils that were smooth and round (far left) as opposed to the pencils with angled edges. Both had great coverage, but I can see why mugs and bottles are so popular to nail polish marble.
Less is More
I found that when you used more nail polish, the coverage was heavier and created more texture over the surface of the pencil.
I prefer a smoother finish and was able to achieve this by using less polish in the water.
Lighter is Brighter
The marbling really pops on objects with a lighter base like those on the right as opposed to the pencils on the left. The traditional number 2 pencils were fun, but the white and silver pencils really allowed the nail polish marbling to shine
Practice is Key
Give yourself several items to practice on to get the hang of the process. Nail polish marbling isn't rocket science, but it does take a few tries to discover the coverage and texture that you like best.
Have you tried nail polish marbling? What is the easiest craft that you like to make? Who's getting ready for back to school? Share your thoughts in the comments below.
This project is a part of the Craft Lightning Back to School series. For even more quick and easy back to school ideas, visit the event by clicking the button below.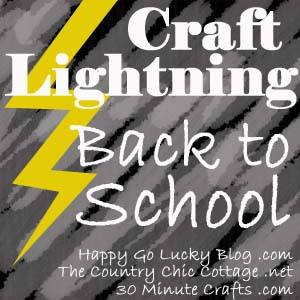 Other stories you might enjoy: