Growing up in the southwest, cactus were anything but cute. As a child I remember having the "brilliant" idea to see if I could carefully bypass the needles to touch the fleshy green part of the plant. I VERY quickly learned that even with tiny fingers, this idea is far from smart. After having to pull needles from my hand, I vowed to give these plants a lifelong WIDE berth.
However, this summer cactus are everywhere in crafting and decor and I can't seem to resist their prickly charm… especially those with bright cactus blossoms. And so they've become the inspiration for the perfect summertime cross-stitch pattern.
How to Make Cute Cactus with this Easy Cross-stitch Pattern
If you are taking a road trip to the desert or just wanting to infuse a little spiky character into your summer decor, here's what you'll need for this easy cross-stitch pattern:
Supplies to Make Cute Cactus Cross-stitch
**This post contains affiliate links. Many of the supplies listed can be found at your local craft store, but the links have been provide for your convenience in recreating this project.**
Download FREE Cute Cactus Cross-stitch Pattern BY CLICKING HERE
How to Make Cute Cactus Cross-stitch
The easiest way to stitch these cacti is to begin with the basic colors.
Stitch Dark Green Cactus
Beginning in the center of your Aida cloth, use DMC #905 to stitch the dark green cacti.
Stitch Light Green Cactus
Then use DMC #907 to stitch all of the lighter green cacti.
Add Cactus Blossoms
Use DMC #S602 to stitch the pretty pink petals. You'll notice that this thread is a satin which will give the blossoms a little extra shimmer.
Then add the blossom centers with DMC #744.
Back Stitch the Details
Following the pattern, use DMC #905 to back stitch over the light green cacti.
And finish by using DMC #907 to back stitch over the dark green cacti.
Although I still believe real cactus demand to be taken seriously, I love the playfulness of this pattern.
Stitch these together as I've done in the sample or create them individualyl and frame for a mini gallery of sharp looking art.
What do you think of the cactus trend? Are you decorating with these prickly plants? What's the most "brilliant" idea you've quickly learned was not so smart? Make your points in the comments below.
This post is a part of the Summer Fun Series. The projects this week are sure to inspire some fun summer sewing!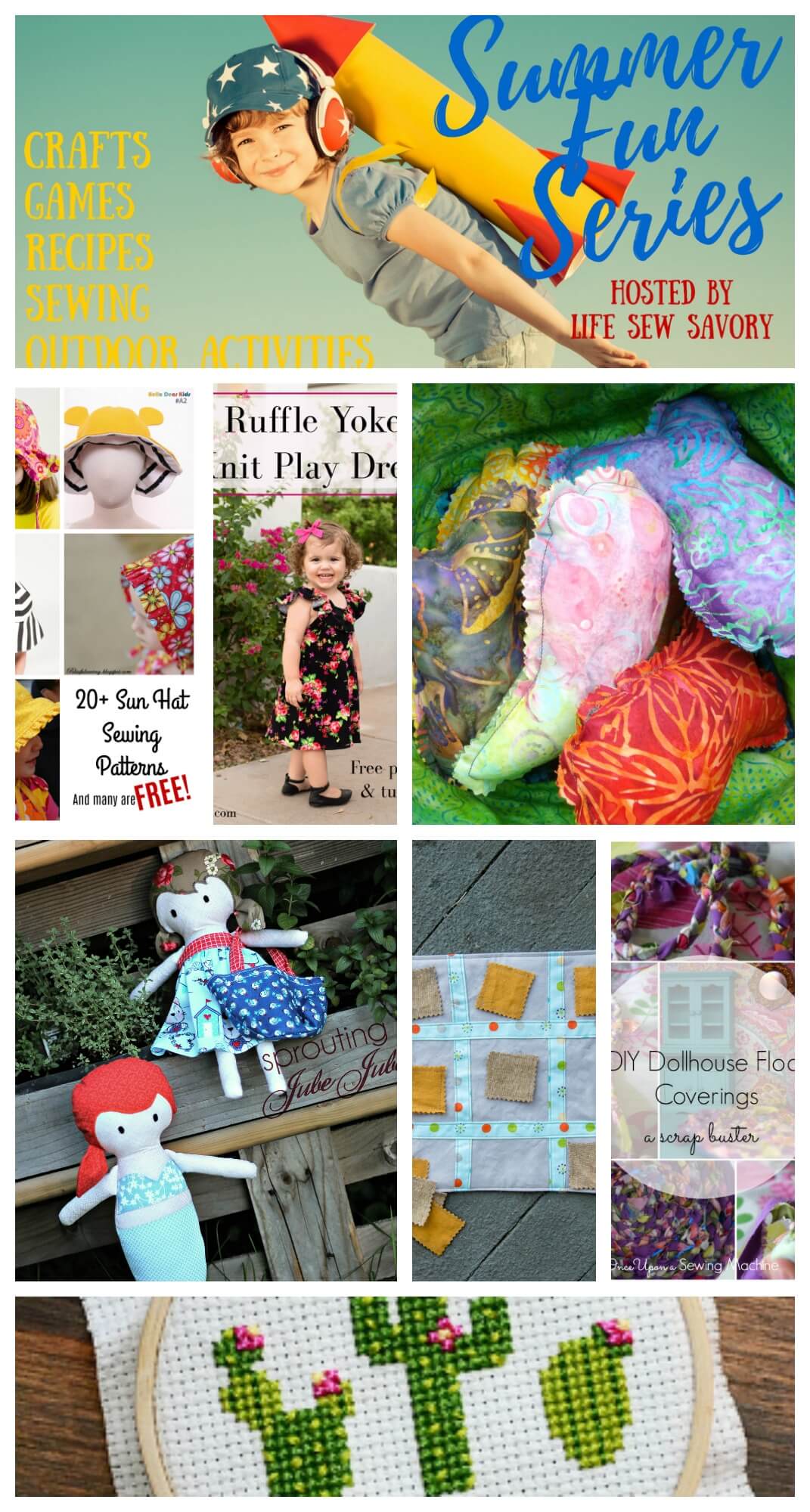 Handmade Fish Toss Game – by Patchwork Posse
Kids Hat Pattern/Tutorial Round Up – Made by Sara
Cute Dolls – Sprouting Jube Jube
Ruffle Knit Play Dress – Bonnie and Blithe
Cactus Cross Stitch – by Storypiece
Free Boys Shorts Pattern – by If Only They Would Nap
Travel Tic Tac Toe – Straight Stitch Designs
Dollhouse Rag Rug – Once Upon a Sew
Be sure to check out all the other summer fun posts over at Life Sew Savory